WA residents, please
sign our PETITION

Travel to Olympia
to meet with your legislators.
Check Out Our Blog
Help save school libraries and make 21st century skills a priority.

We're selling shirts to cover our expenses and promote our cause. shop here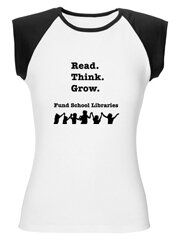 Our first design is based on an original photograph by

Edwin S. Loyola

and matches our website. Thanks Edwin!

Welcome to the home of the

WCSLit



Champions for School Libraries and Information Technology
We are 3 Moms who believe that it's never been more important for all children to become effective users and creators of information. Access to a well-funded, professionally-staffed and innovative school library and information technology program is central to a better, more equitable education for children.

Defining, designing and supporting school library and information technology programs that reflect the changed information landscape that our children inhabit is as much an issue of global competitiveness as social justice.

We are preparing to launch a new initiative, please stay tuned and we hope you'll stay with us.

3 Moms sat around a kitchen table at the end of 2007, wondering if anything could be done about the fact that school library lights are being turned off, the average date of copyright in Washington school libraries is 1986, and that a two-tiered system of services exists - some children are developing 21st Century information literacy while others are relegated to an antiquated system of check-in and check-out.
Our mission is to communicate the message that Washington voters and industry leaders believe information technology and well-funded libraries are fundamental to 21st century education. The Coalition is working for a future where every public school or small district in Washington State is served by a full-time, certified teacher-librarian who manages a fully-funded library and technology resource collection, giving students from across the state the same access to technology, the same chance for literacy, and the same opportunity to receive a world-class education.
In just four months, this grassroots effort secured $4 million dollars for emergency bridge funding in a supplemental budget year. Citizen engagement also led to the inclusion of a line-item for teacher-librarians within a landmark education reform bill.
We hope you'll stay with us and support the next act: ensuring funding and making the case that school library programs and information technology matter now more than ever.
Meanwhile... school library programs around the state continue to hemorrhage, cuts have been reported around the state. Click here to see where things stand.
Thank you for growing a voice so strong that the unlikely became possible once again. We are grateful to the grassroots movement for having the tenacity to keep on speaking up!
Lisa, Susan and Denette
--------------------------------------------------------