Check Out Our Blog
Will school libraries become a part of the
dialog on funding basic education?
Help save school libraries and make 21st century skills a priority.

We're selling shirts to cover our expenses and promote our cause. shop here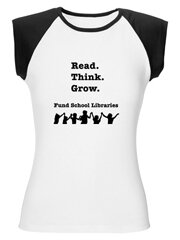 Our first design is based on an original photograph by

Edwin S. Loyola

and matches our website. Thanks Edwin!

Donate to support school libraries!!
Please support our efforts to fight for funding for school libraries.
Your time & talents:



Buy a t-shirt or button to raise awareness!

Please consider a financial donation to help cover costs of this grass-roots
campaign. Three Moms paid for it out of their pockets until it grew too big.


Thank you

for your helping in whatever way you can.